What's New In Ronin
We've been busy at Ronin, check out all our new features!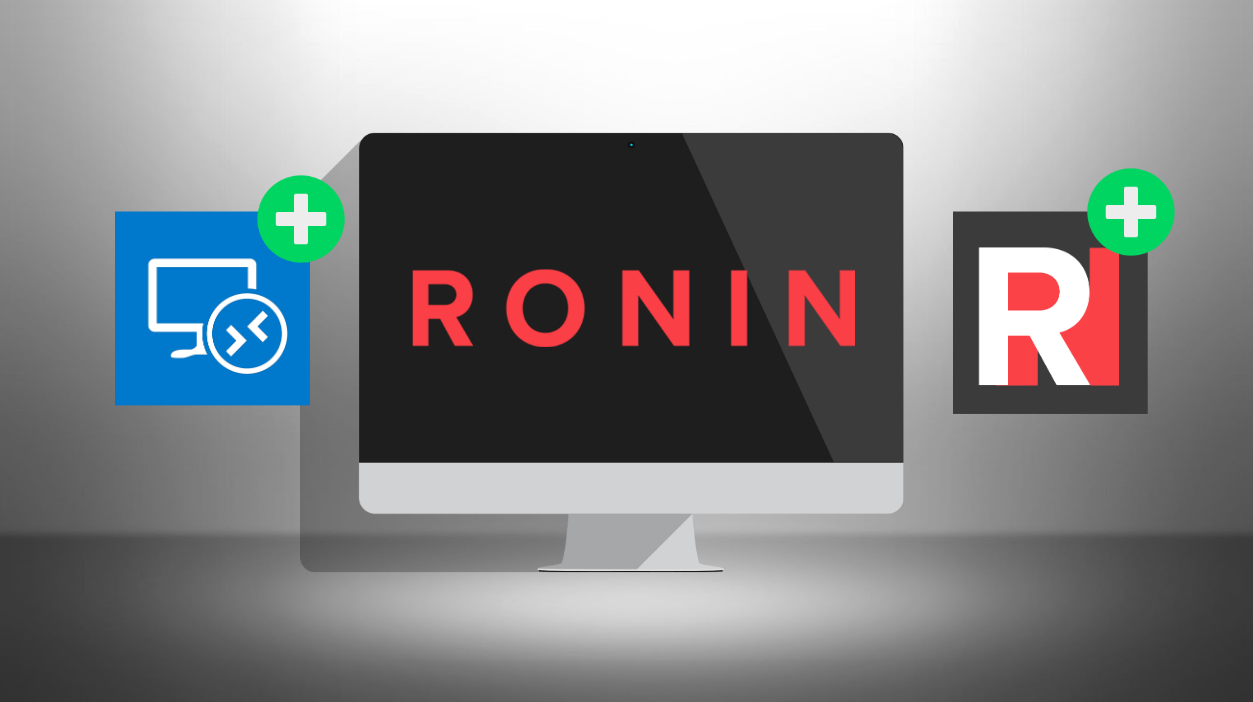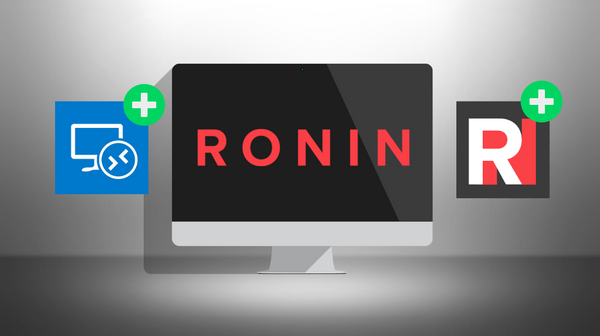 Tuesday, 7th July 2020
Ronin Link 2.0! DCV Integration! Ronin Multi-Account Mode! Ronin Secure Stream! Ronin Shield! Data Lakes! All of the things..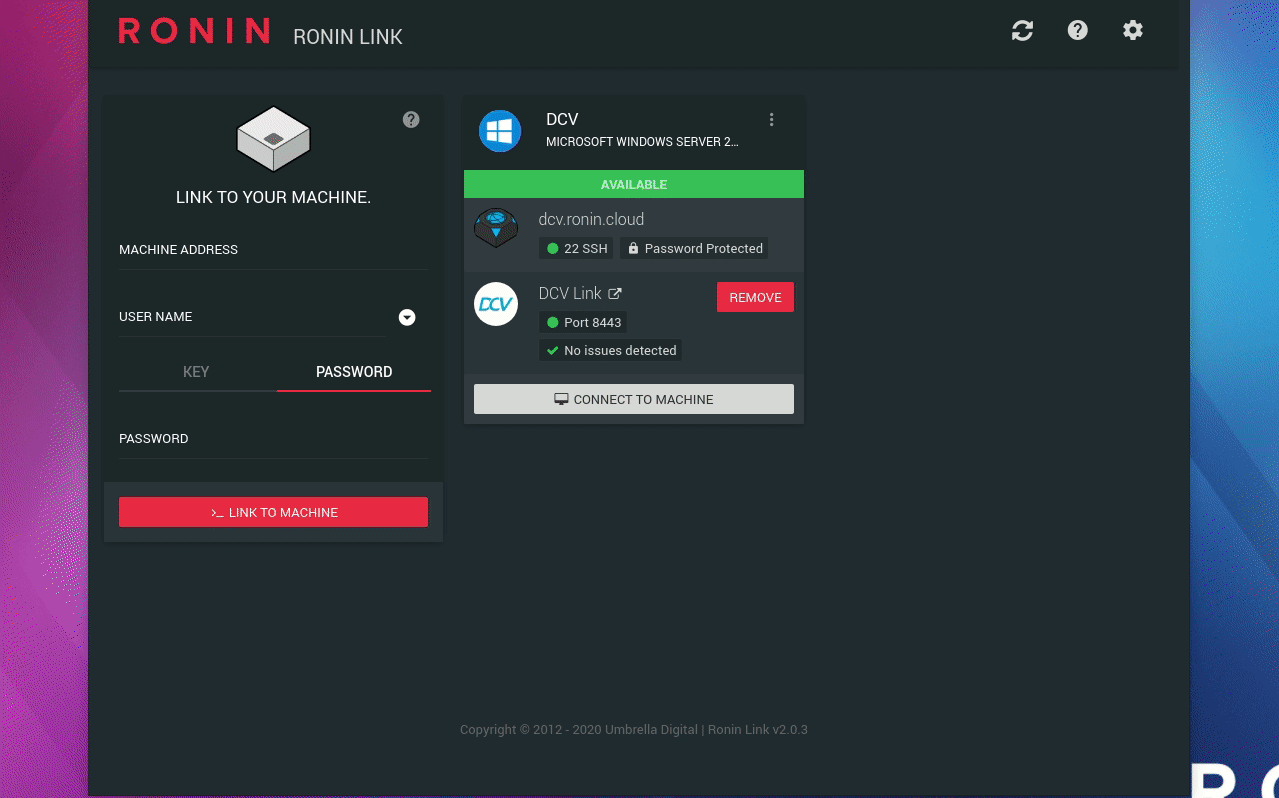 Features
Windows Desktop with DCV - Secure Cloud Desktops
Install and Run Windows Desktops securely with Ronin Link 2.0
Fully encrypted, low latency, GPU / non GPU supported instance types
Linux based desktops coming soon!
Ronin Multi-Account Mode! ONE ORGANISATION RONIN WITH DISTRIBUTED BILLING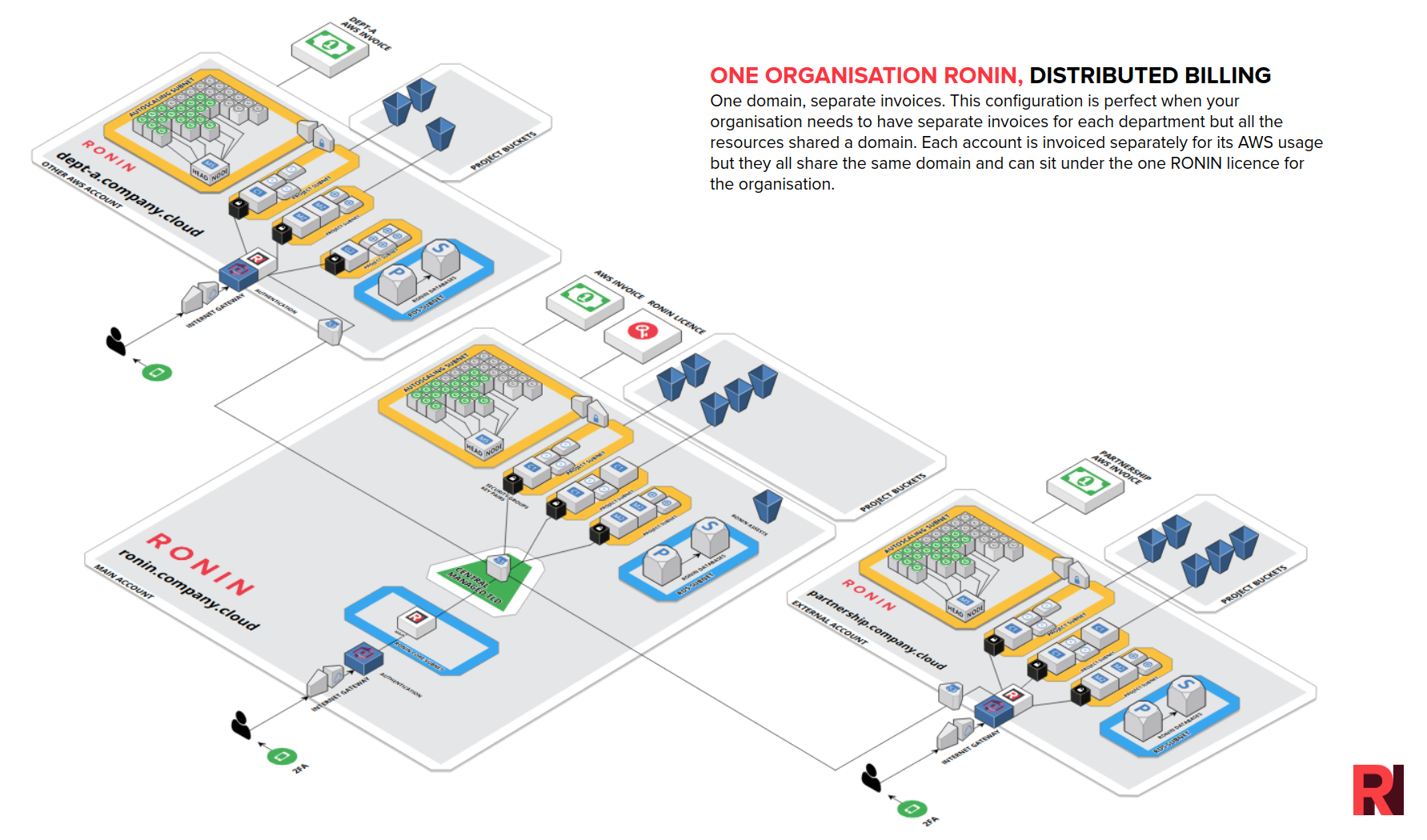 Connect license servers with ease - it's Ronin Secure Stream!
Extra security with AWS Web Application Firewall -  Ronin Shield!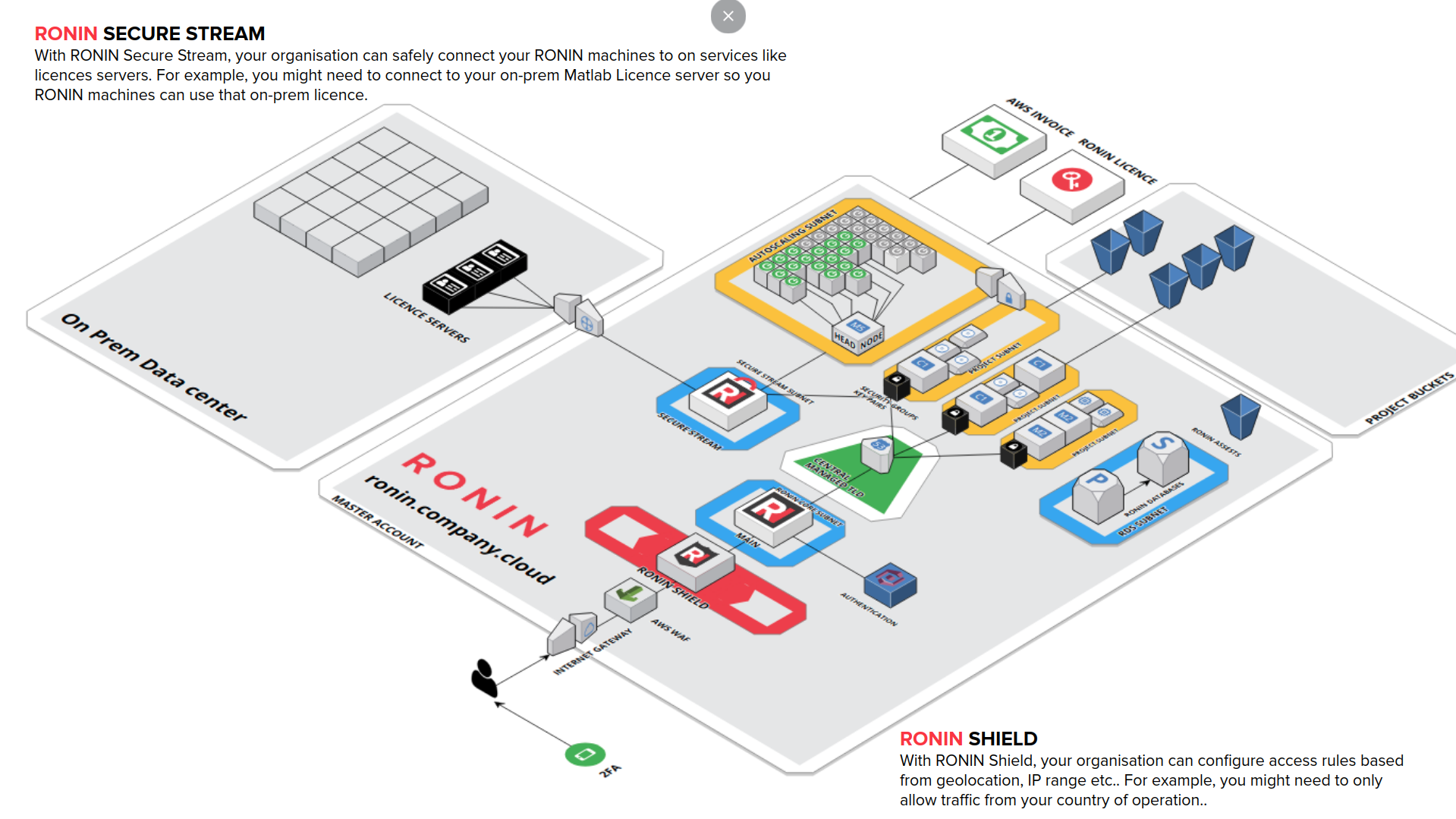 Ronin Data Lake Integration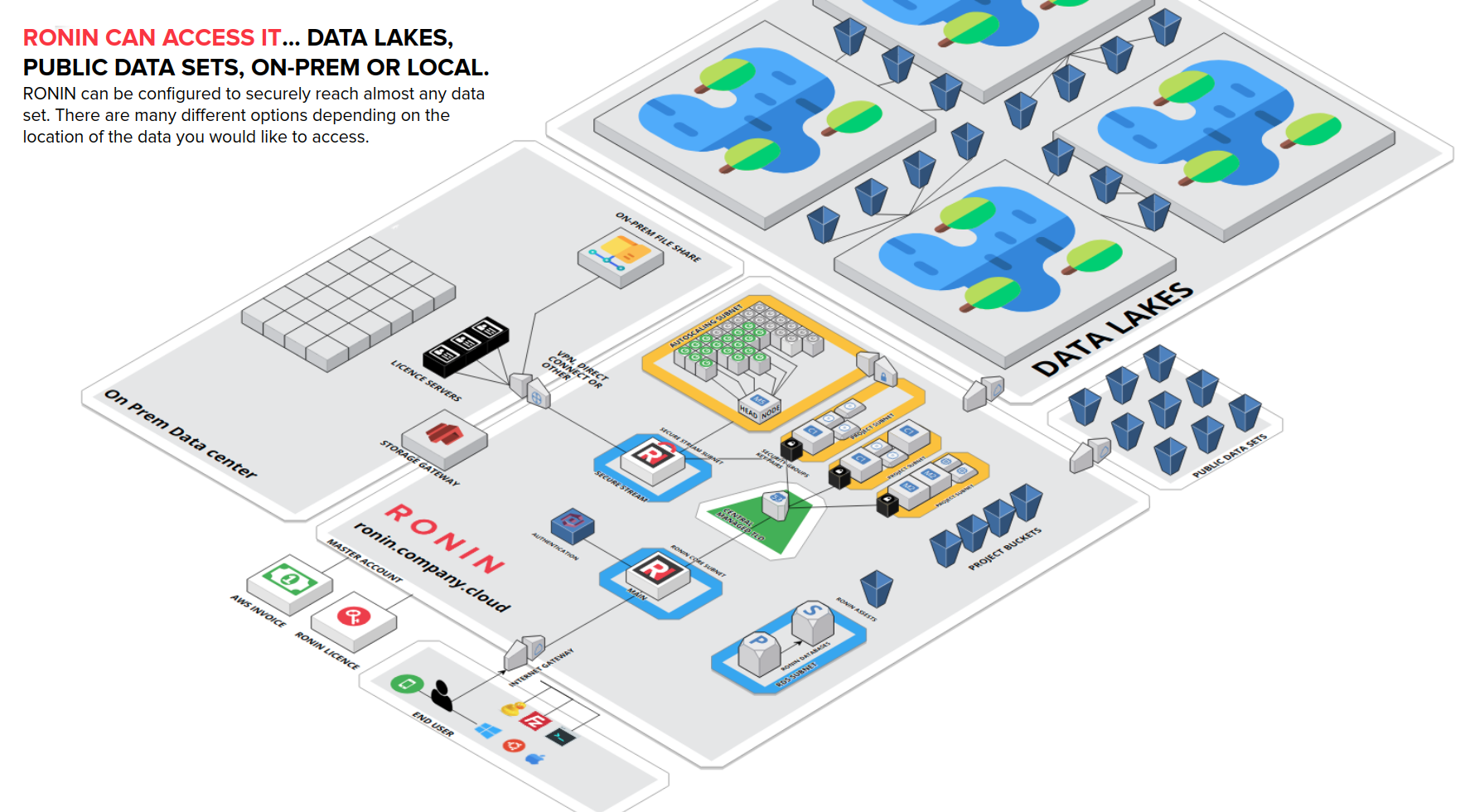 Parallel Cluster v2.6.1 LTS now live!

Hyper-threading on / off switch for different workload types
Intel HPC Tools added (Intel Parallel Studio)
Ronin Link Windows Integration
Connect to PowerShell / Command Prompt with new Windows integrated Xterm capabilities (Windows Server 2019)
Stop / Restart / Monitor CPU usage with a single click
Port forwarding Windows Server Applications with Custom Link
Bug Fixes
Fix for Windows Passwords and special character combinations
Fix for Hyper-threading with Cluster Packages on older Parallel Cluster versions (2.4.1)
Fix for special scenario where DNS is pasted in
Global bug fix, AWS create Machine API Change
RIP Ian Holm - Off on your next adventure.
Wednesday, 18th March 2020
New Email Budget Notifications! Plus a new version of Ronin Link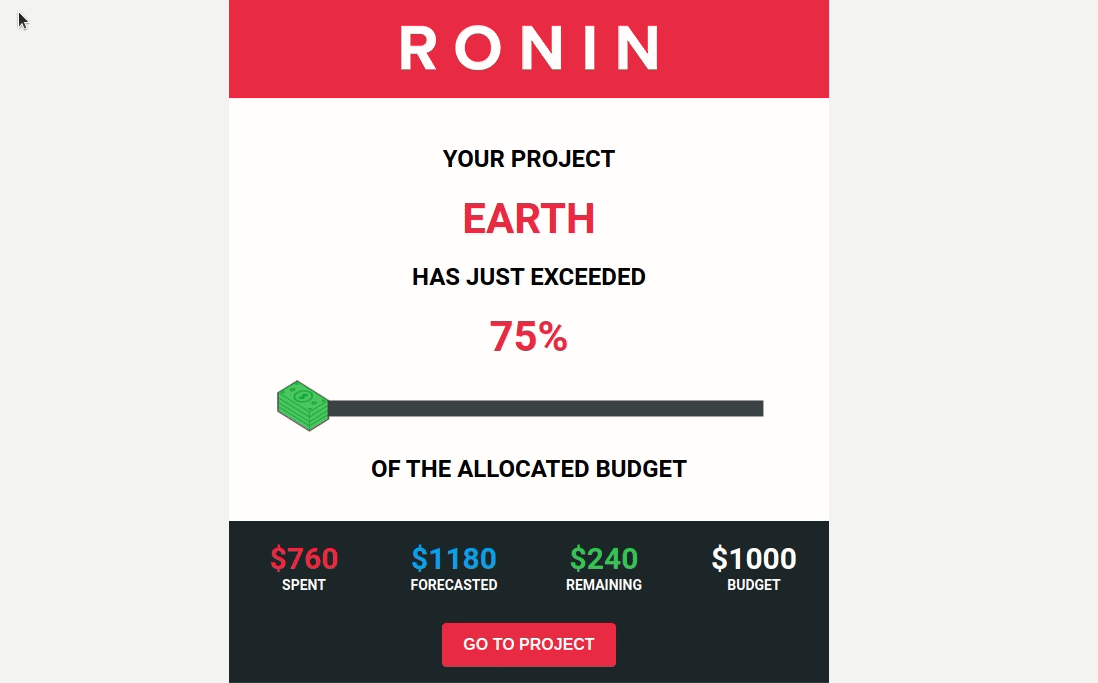 Features
New Email Budget Notifications
Removed the old school default AWS emails for newer Ronin themed notifications
At a glance project information and quick navigation to your Ronin project
Added System Administrator to the BCC list so everyone in charge gets notified
Ronin Link Stability Upgrade v1.7.5 for Ubuntu, Windows and Mac
Better Budget Tracking across Admin Screens for Accounts that have moved
Bug Fixes
Fixed an issue with Sydney ap-southeast-2 object storage using a dash instead of a dot
Fixed an issue in Ronin Link Port Forwarding that caused a loading gif to spin forever
Fixed an issue in Ronin Link where the Performance Management wasn't installing correctly on Centos
Fixed an issue where AWS budgets remove historical
Tuesday, 3rd December 2019
HPC Service Catalogue! EFA Enabled Machines! People Admin Screen! Parallel Cluster v2.4.1 and loads more..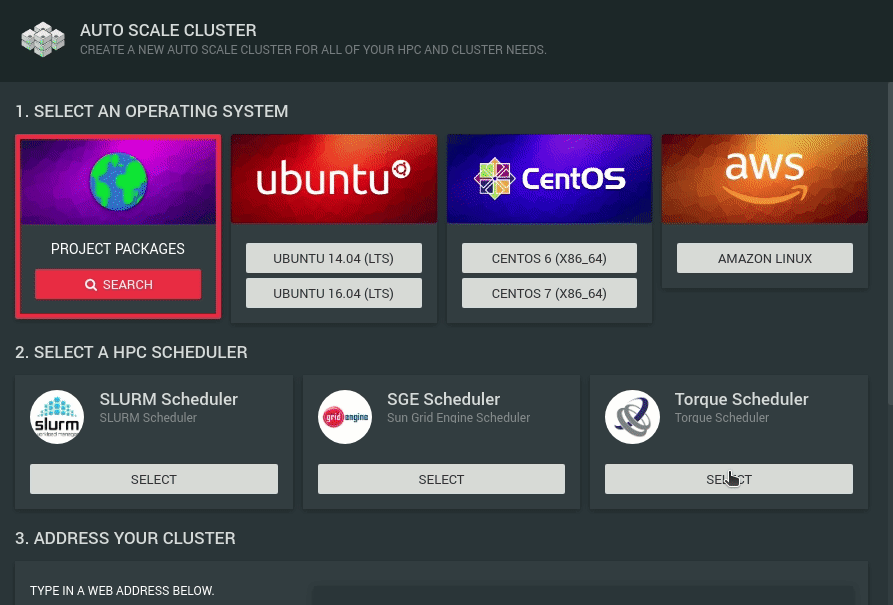 Features
New HPC Service Catalogue
Administrators can now turn packaged clusters into reusable organisation services!
Deleting service catalogue entries is now possible.
Deleting Packages / HPC Packages is now possible.
Upgraded to Parallel Cluster v2.4.1
Versioning of Parallel Clusters has been added to clusters.
Backwards compatibility for previous clusters and cluster packages included.
An upgrade cluster button is coming in a future release :)
Elastic Fabric Adapter is now enabled for certain machine types!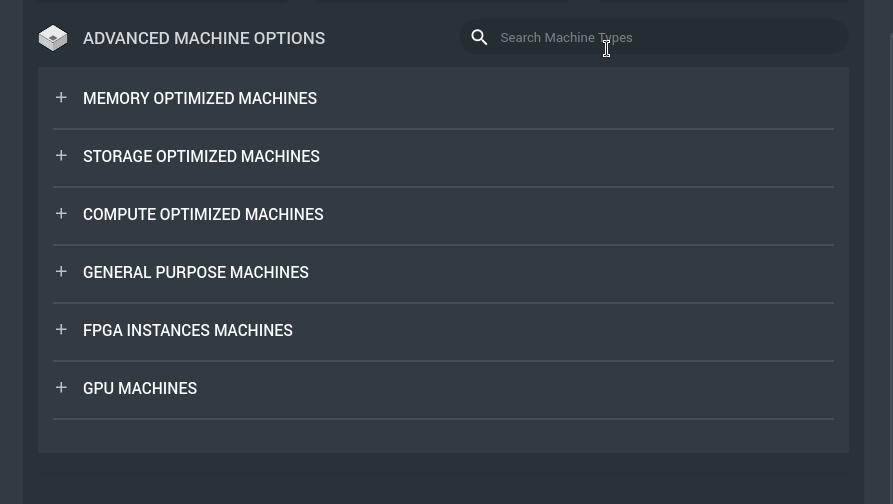 Search 'efa' from the machine type page to see which machines are supported.
Loads more machine types have been released! Remember to check this page regularly!
New People Admin Screen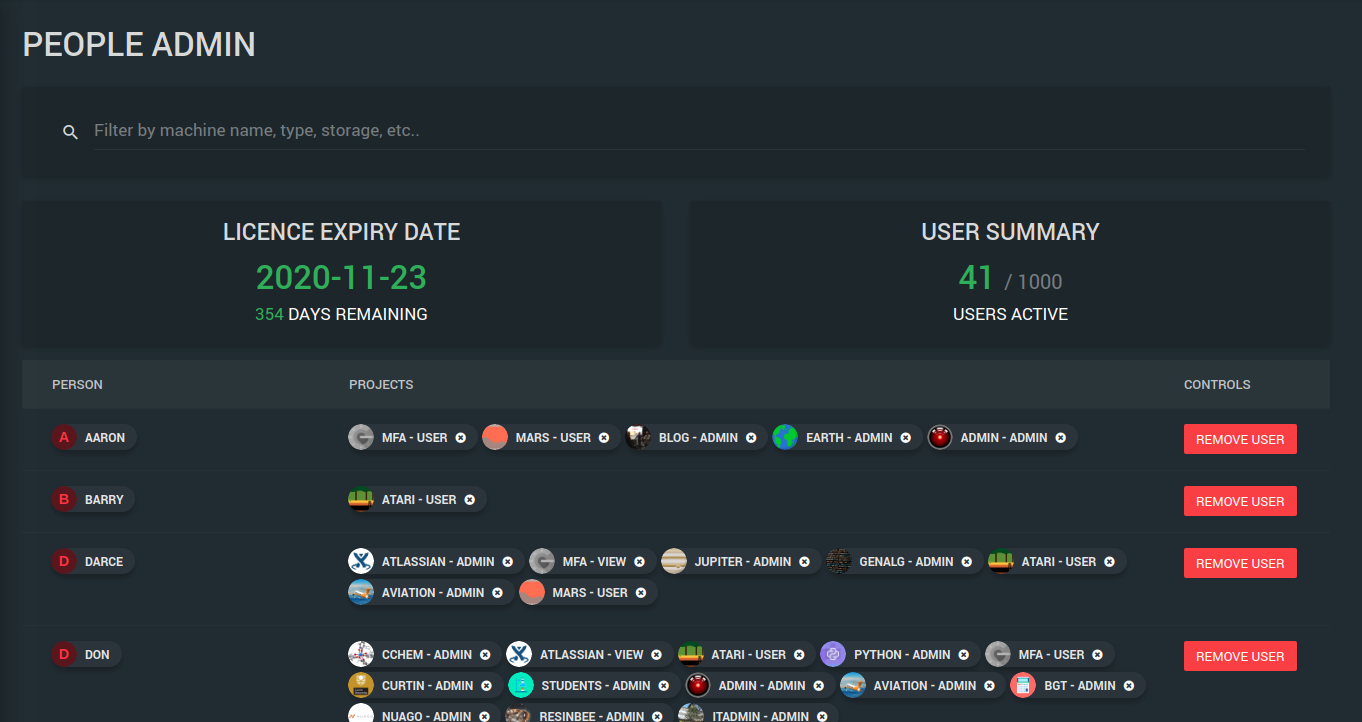 Manage your active users, see licence details and remove user project access.
Changes
S3 Restore + SSL Only policy for enhanced security - All buckets created from this day forth will have glacier restore and SSL only policies
New Tag Enforcer for more reliable tagging of Cluster Compute Volumes
Upgraded RDS Database SSL certs to rds-ca-2019
Adding CSV Export buttons to loads of tables
Okta integration for ADFS authentication
Bug Fixes
Prevent users entering decimals on cluster create screen, extra validation on storage fields
Fixing an issue where NFS mounting wasn't working reliably on cluster packages
Loads of User Interface improvements and enhancements
Fix for Lower admin when creating a project throwing an error
Package images weren't showing on HPC Cards
Monday, 8th July 2019
Cluster Packaging! Spack integration! So much more!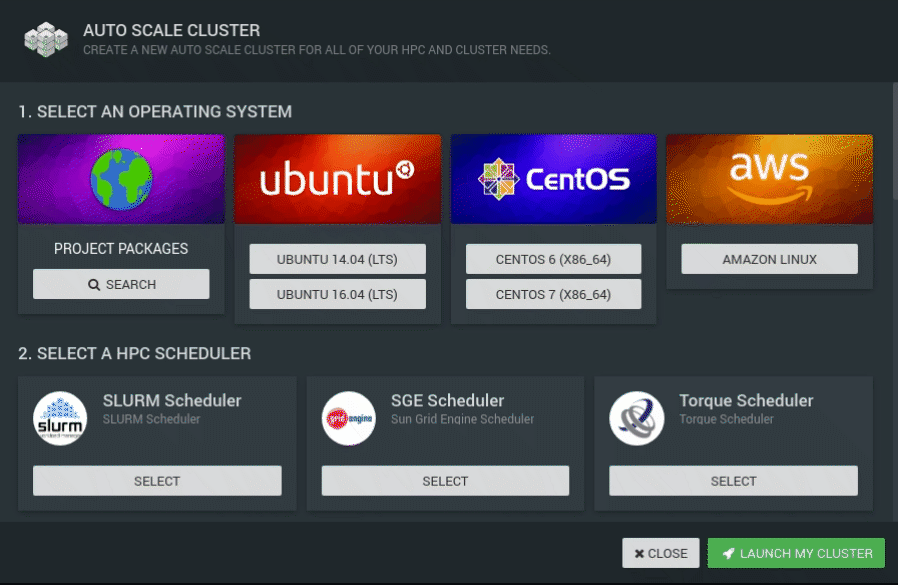 Features
Ronin now supports HPC Cluster Packaging
Bundle up all your configured software and share it within your Project!
Clusters now launch with dedicated /apps and /shared directories.
Use /apps for installed software and /shared for shared resources or data
Spack has close to 4000 HPC packages and handles all dependencies.
Spack is configured to install into the /apps directory out of the box
All compute nodes will have access to spack installed binaries
Create machine now has a copy to clipboard ssh command feature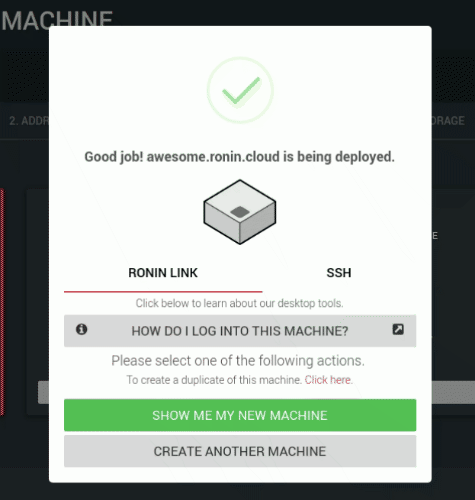 Also available at the key creation screen on single and cluster machines
Password Reset
Now anyone can automatically reset their password.
This won't reset two step authentication (upcoming release)
Cyberduck connection profile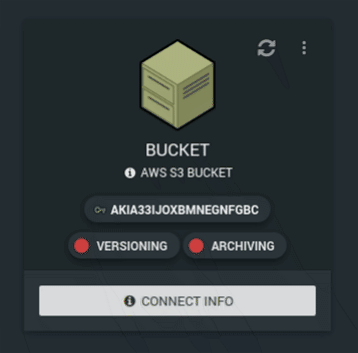 A file that, when opened, will prepopulate some of the fields in Cyberduck, so you don't have to!
Changes
Parallel Cluster upgraded to 2.3.1
On packaged clusters, shared and apps directories cannot go below original size
Bug Fixes
Adding a picture to your cluster packages now works
AWS Cluster root volumes no longer incorrectly show as non root
Can no longer package a stopped cluster throwing an error
Clusters with storage kept after termination are now being tagged correctly
Tuesday, 14th May 2019
HPC Dashboard and Storage Resize tools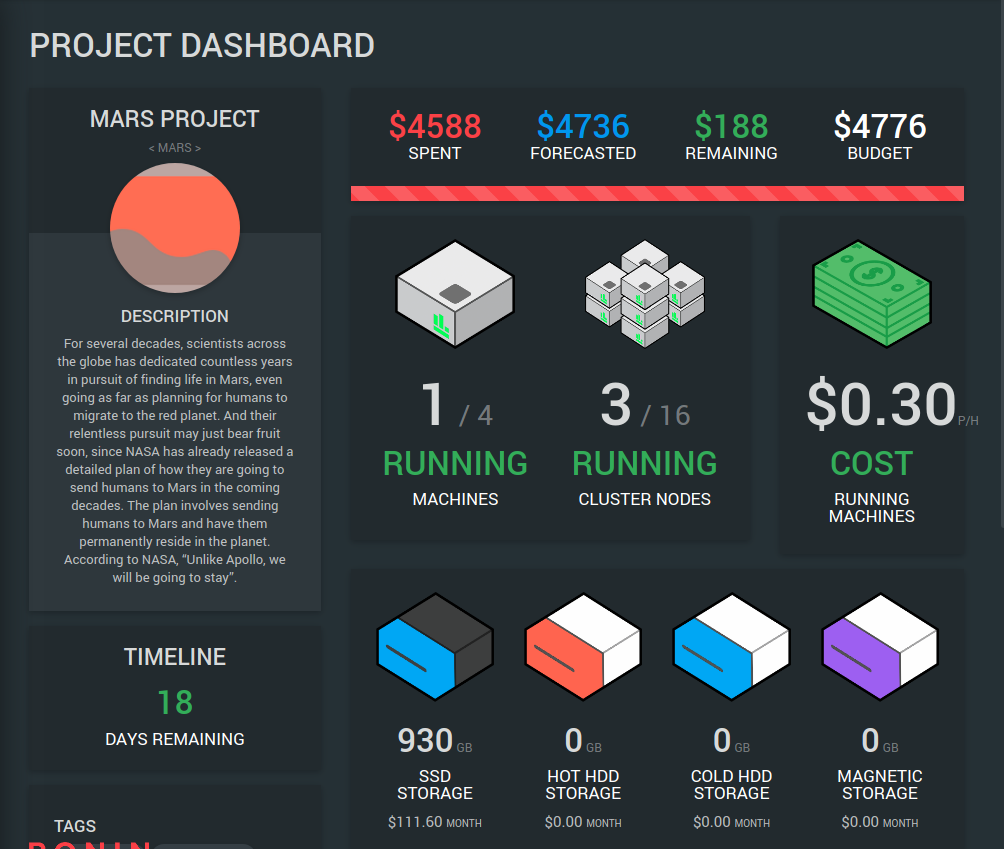 Features / Changes
Dashboard shows HPC and Machine details
HPC card shows Cluster nodes running / potential max size
Machine card shows running / total (stopped and running)
Root / Non Root volumes can (by popular demand) be resized on the create single machine screen

Thursday, 25th April 2019
Ronin Link Integration and Much More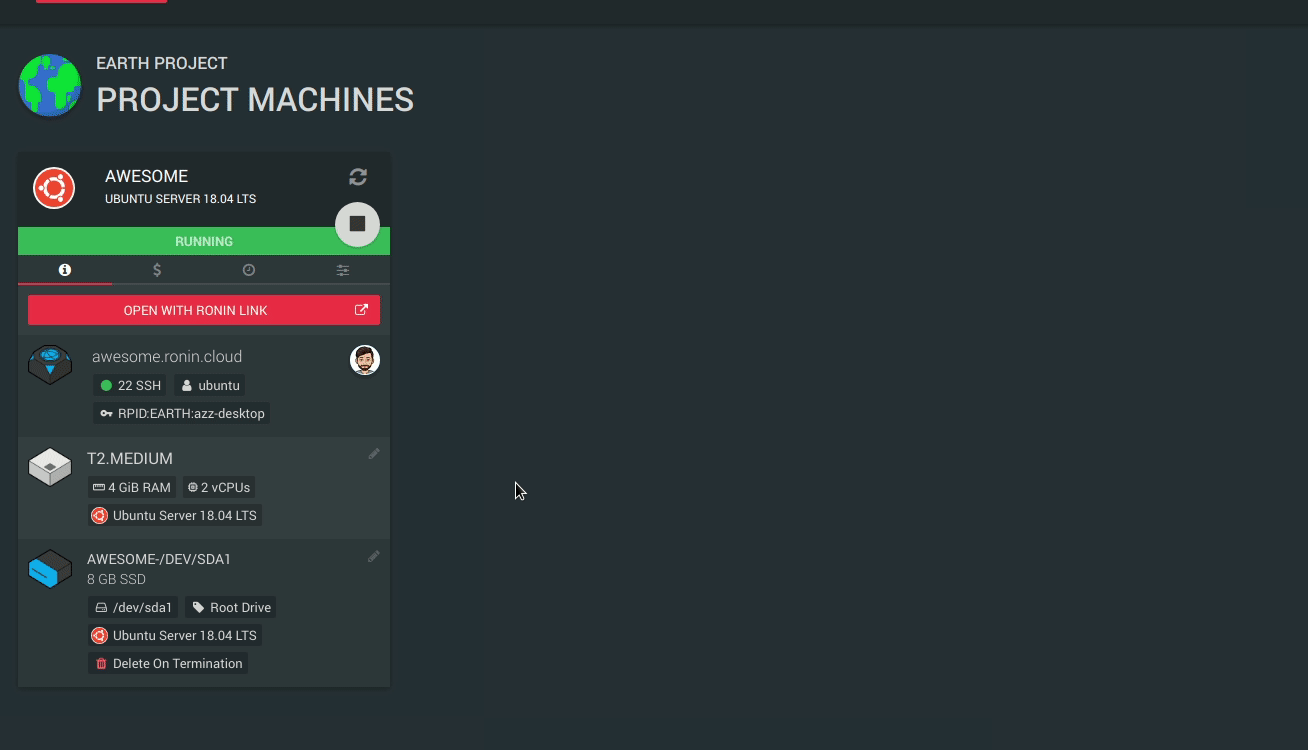 Features
One click Ronin Link Integration. Click the Open with Ronin Link button on the machine in Ronin for a seamless login via the Ronin Link desktop app.
Two click RDP Integration. Click the Download RDP File button on the machine in Ronin and open the downloaded RDP file to launch your remote desktop tools.
Check my Networking Tool. All machines now have a quick way to diagnose internal DNS problems when connecting from within organisations.
External email users now allowed in permissions
Changes
Lower admin now has visibility and control over budget controls
Project admins can now manage users without project settings/budget access
Fixed Linux launch and new key tips to both point to Ronin Link
Bug fixes
Better mapping for all drive types.
Package Management - Admins can now override the root vol size, defaults, and will now validate against snapshot size to ensure enforced min size.
Fixed Windows "Booting OS" buffer and display issue, all works on GMT now.
Fixed incorrect redhat pointer in AMI import modal